General janitorial supplies are products that are essential for any commercial and industrial facility. They not only keep your establishment clean and well-maintained, but quality products also lower your cleaning costs, increase the productivity of cleaning staff, and keep your employees and patrons safe.
Below is a list of general janitorial products and supplies that will make your cleaning efforts more effective and efficient.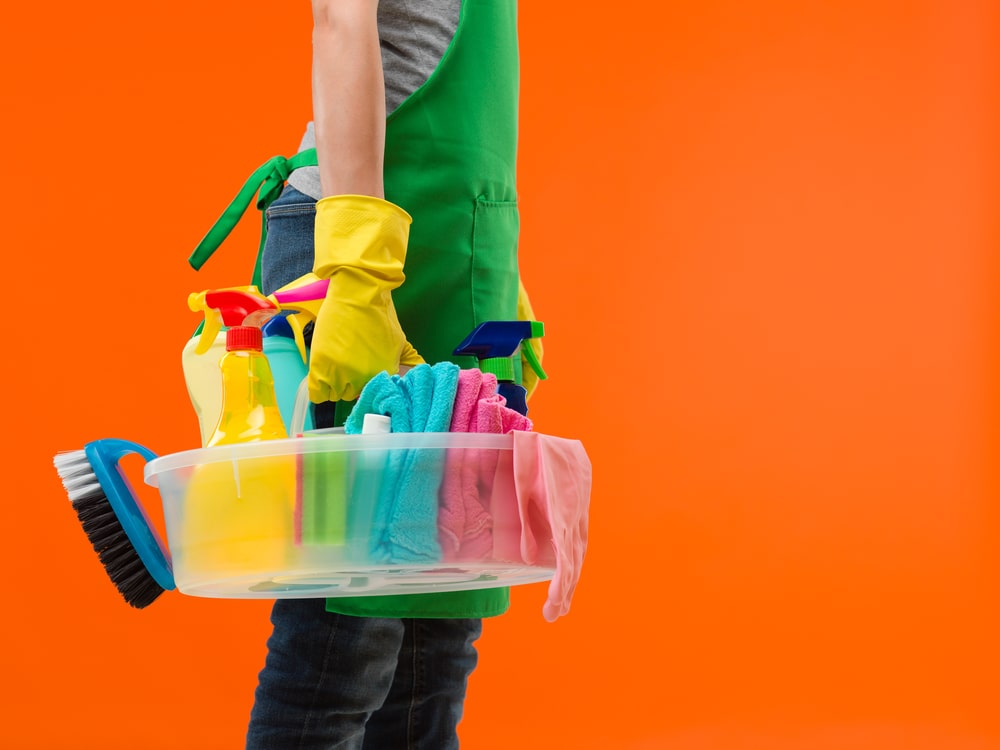 Organization system
Cleaning staff use several janitorial products and supplies around the facility. Regardless if you operate in a small space, an organization system for your industrial cleaning supplies is a must. It helps staff quickly locate products in one place, saves time, and ensures that you have all you need. 
Janitor cart – Cleaning carts can come with heavy-duty bags for garbage collection, drawers for supplies, and compartments to store cleaning products. Modern cleaning carts are highly innovative, with flexible organizational systems, locking cabinet doors for extra security, and easy-to-maneuver compact designs.
Caddy bags that fit specifically around garbage containers make it easy to wheel through the facilities with everything you need on hand, from paper towels to spray bottles, dusters and sponges.
Caddy – Ideal for smaller facilities that only require a few cleaning products or areas that need quick clean up. A simple caddy can fit a multi-purpose cleaner, microfibre cloths, disinfectant, and other supplies. 
Safety equipment 
If you're using any type of cleaning chemicals, it's important to keep your skin, eyes, and hands safe. The following is a standard list of janitorial safety equipment that every business needs.
Face mask – Stock up on disposable face masks to protect yourself from harsh chemical fumes. 

Protective gloves – Choose from disposable nitrile, vinyl, latex, heavy-duty rubber,  or a foam-coated option resistant to snags and abrasions.

Safety glasses 

Emergency eyewash station
Along with the above organizational and safety equipment, use the following list as a starting point to keep a well-stocked inventory of cleaning products and supplies. 
General janitorial supplies

Microfibre cloths for cleaning surfaces

Glass cleaning clothes for windows and mirrors

Extendable duster

Vacuum with attachments for hard surfaces and carpet

'Closed-for-cleaning' sign 

'Caution: wet floor' sign

Toilet brush and hand scrubber

Mop and bucket

Broom and dustpan

Window squeegee

Window scraper

General janitorial chemical products

All-purpose cleaner

Streak-free glass cleaner

Non-acid and acid-based toilet bowl cleaner

Air freshener

Deodorizer

Floor surface cleaner

Stainless steel appliance cleaner

Furniture polish 

Final thoughts
When making a list of general janitorial products for your commercial facility, consider supplies that will provide an effective clean with the least amount of effort and time. The right products and supplies are a solution to daily cleaning constraints and provide a safe environment for staff and customers. 
About Apple Cleaning Supplies
Our priority is to provide excellent service with expert guidance, offering educational training sessions, and a full facility analysis. We have 
two physical locations
: one in Calgary, Alberta and one in Kelowna, BC and we deliver professional cleaning supplies across Western Canada.