Having the right supplies is necessary for keeping your commercial facility clean. Whether you're moving into a new facility or you're taking inventory of what you have on hand, the following list of cleaning supplies is a must-have for all Calgary businesses. 
While no cleaning supply store can offer a product or tool that does it all, these seven cleaning supplies will help you tackle any mess.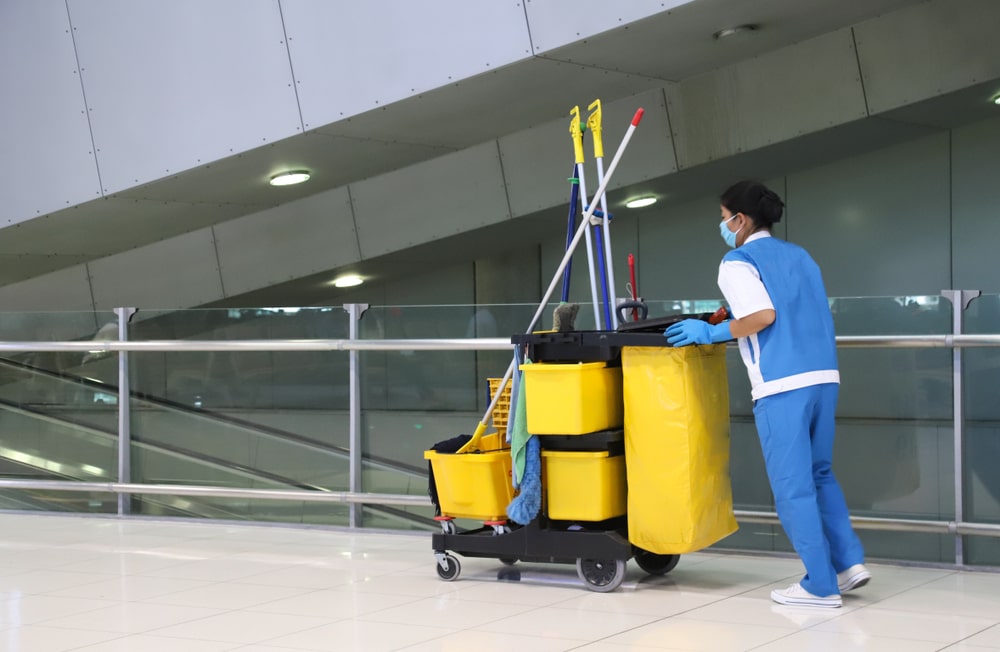 General cleaning supplies
Microfibre cloths

– Microfibre cloths are a must for cleaning all types of surfaces. The material is gentle enough to clean without leaving scratches, including stainless steel and glass. We recommend colour-coding your microfibre cloths for the bathroom, kitchen, and general work area. These cloths are washable and reusable. 
Extendable duster

– Perfect for hard-to-reach spaces, magnetic dusters with an expandable wand effectively traps dust using electrostatic action. Choose a reusable duster that can be easily cleaned with a mild detergent. 
Stiff handheld brush

– A brush with stiff poly bristles is effective for scrubbing and removing stubborn build-up. A handheld brush with a pointed end can get into hard-to-reach corners.
Vacuum cleaner

– From up-right models to canisters and backpack vacuums, there is an industrial vacuum designed to handle any application. Invest in a vacuum cleaner that can transition to most flooring surfaces with attachments that can reach problem areas, including corners and overhead cleaning.
Mop and bucket

– A mop and bucket are essential cleaning supplies for hard floor surfaces, including tile, linoleum, and vinyl. Choose a bucket with a wringer that can expand to accommodate most types and sizes of mops. 
Toilet brush and holder

– A bristled toilet brush will effectively clean your toilet with minimal effort. A holder makes for easy, sturdy, and hygienic storage.
Protective gloves

– A set of gloves is a necessity for protecting your hands from cleaning chemicals and grime.

Nitrile and vinyl gloves have become much more popular than latex, mainly due to allergies. Nitrile gloves are a hot commodity for its high-quality material.

For light oil applications, there are palm-coated gloves available with a nylon liner that provides added grip. 
Final thoughts 
It's easy to see why having the right cleaning supplies and tools help get the job done effectively. Quality tools from a reputable cleaning supply store in Calgary can make all the difference, both in terms of usefulness and convenience.