Floors looking dull and lacking luster? As many businesses are reopening, floors are the first thing that customers and clients see when they walk through your doors. Ensure your floors sparkle and shine with some simple procedures. Apple Cleaning Supplies has the tools and knowledge to help you add that sparkle to your floors. 
Beyond Appearance
Floors can unknowingly spread viruses across your establishment and even carry it out to other establishments as guests, customers & employees walk around. Open your doors to a clean and safe environment for your guests.
Whether the floors are resilient or non-resilient, we have what you need to restore life into dull and scuffed surfaces.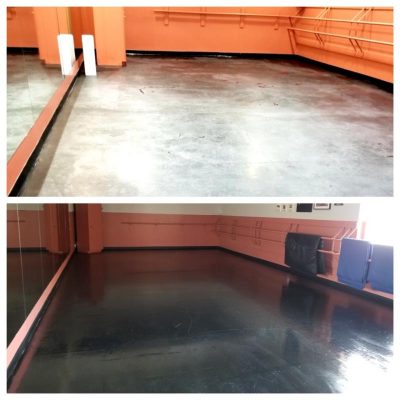 Restore New Life into Old Surfaces 
You too can achieve this look with the right tools, chemicals and procedures. We can provide all the tools you need to complete this project.
Beginner? Did you know Apple Cleaning Supplies offers training on many janitorial related subjects including stripping and finishing floors. Contact us today to learn more! (403) 569-6969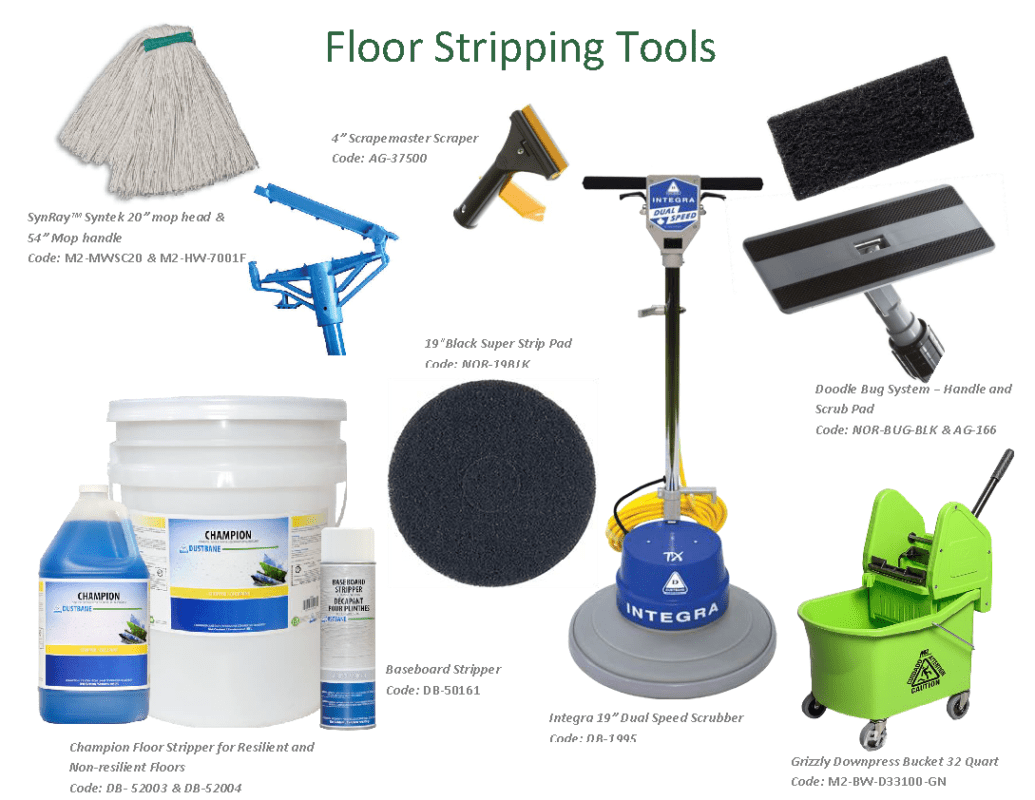 Checklist for Stripping Floors 
Floor Stripping requires a slow speed scrubber like the Integra Dual Speed Floor Machine paired with a scrub pad such as the Black Super Strip Pad. Use a quality floor stripper like Champion, which is suitable for both resilient and non-resilient floors. Trust Apple Cleaning Supplies to be your one-stop shop for all floor stripping needs.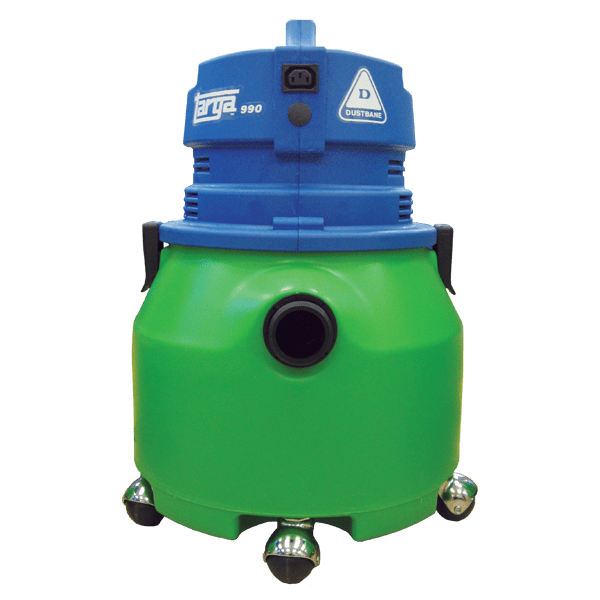 Clean up is Quick and Easy with the Targa 990 Wet/Dry Vacuum
Stripping floors is a messy job. The Targa 990 Wet/Dry Vacuum will make quick work of cleaning up the residue and preparing the floor surface for the next step towards beautiful sparkling floors.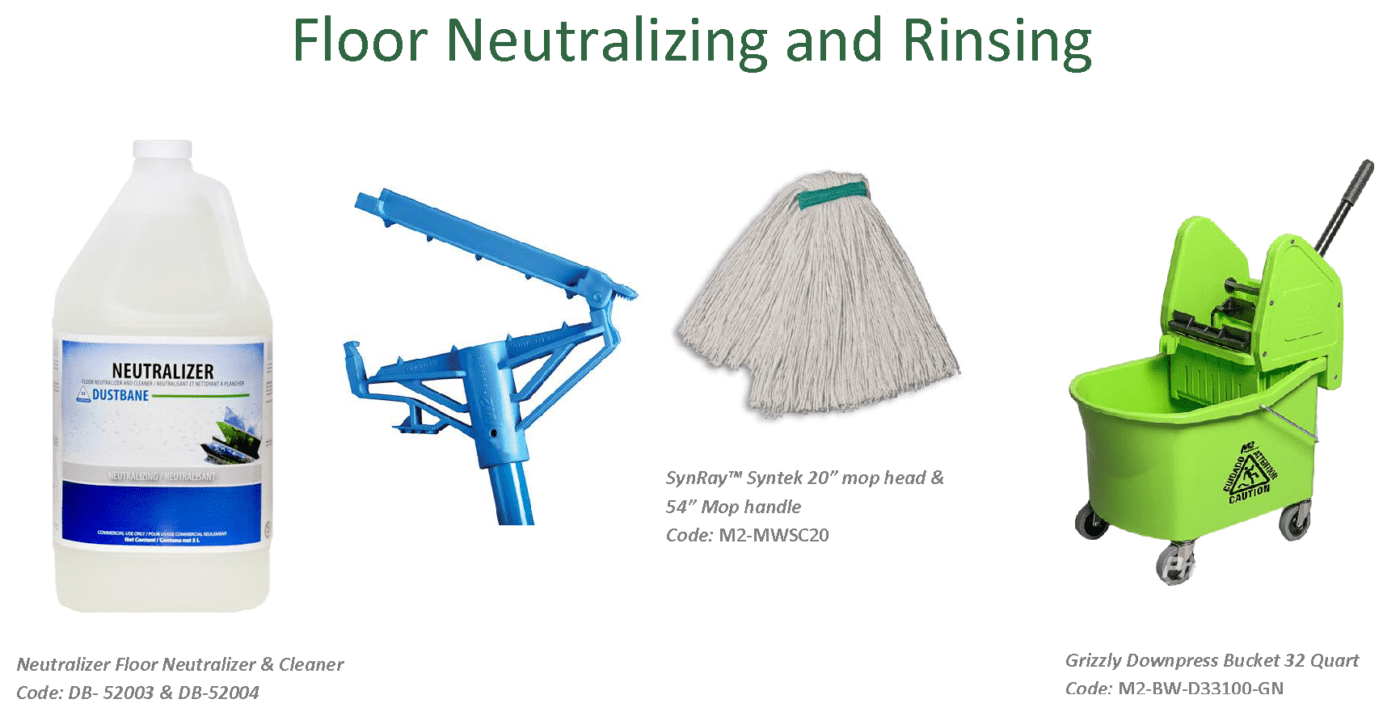 Checklist for Floor Neutralizing and Rinsing
Before adding the floor finish the surface needs to be prepared with a neutral floor cleaner like Neutralizer. Neutral pH cleaners are safe for general purpose cleaning and restoration from floor stripping chemicals, which tend to be on the alkaline side of the scale. Neutralizer's effective penetrating action conditions floors by neutralizing and cleaning stripper residues before applying a water emulsion floor sealer or finish. Not only will cleaning the surface with a neutral pH chemical restore pH balance, but is also a more environmentally friendly option. Neutralizer should be applied twice and left to dry before proceeding to the next step.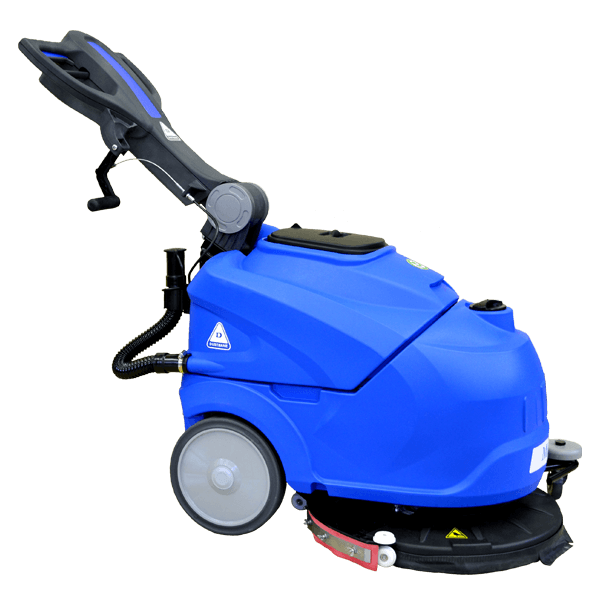 Hurricane Maxi 18″ Walk Behind Scrubber.
The Hurricane Maxi is a cost effective alternative to a mop and bucket and is perfect for cleaning large spaces.
Dirty mops can contain germs and viruses, and can spread them instead of removing them. Mops can also absorb the active ingredients in disinfectants in a process called quat binding if the mop is left to soak in the solution. One study has found the quat level of a disinfectant remaining was decreased by 50 percent after soaking for just 10 minutes – rendering the solution with an insufficient ppm.
Prior to adding sealant to your floor, thoroughly clean the surface with the Hurricane Maxi for best results.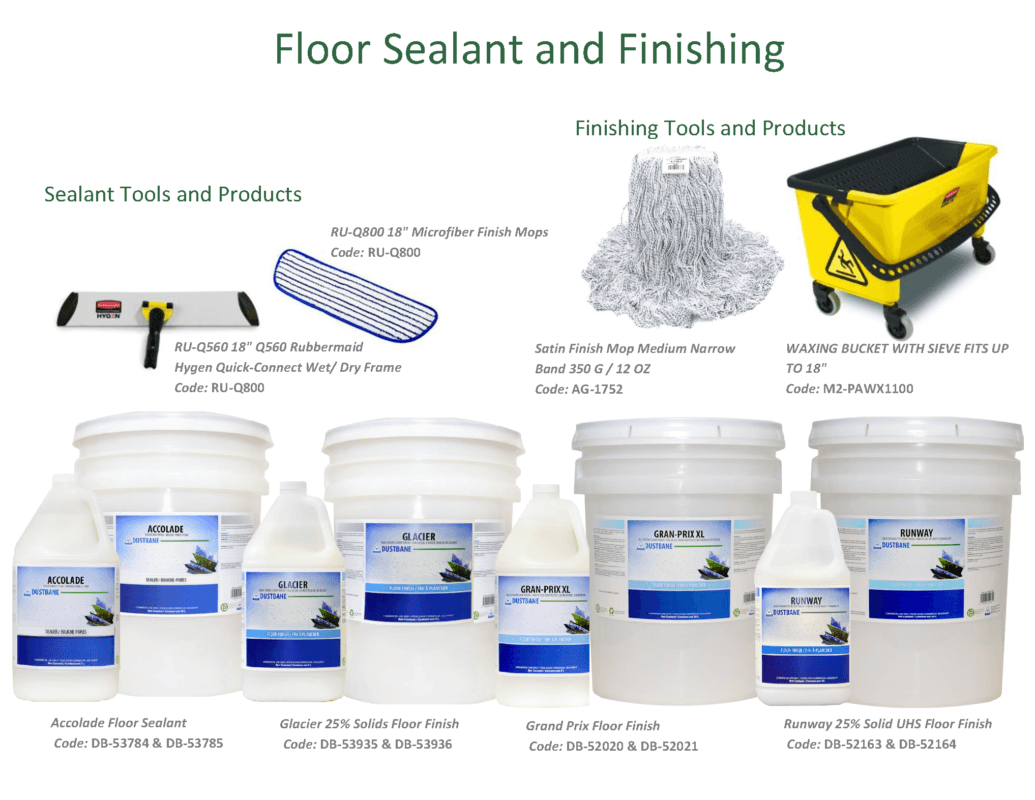 Checklist for Floor Sealants and Floor Finishing
Using quality products and the right tools for the job is crucial to achieving a pleasing final result. Seal your floor with Accolade Floor Sealant prior to finishing. Apply 2 coats of Accolade Floor Sealant and allow to dry. Using the proper type of applicator is important. We recommend the Quick-Connect system from Rubbermaid and the Microfiber Finish Mop Pad. 
For finishing the floor the Satin Finish mop is recommended. The waxing bucket provides the perfect fit for the Quick-Connect system.  
We carry a number of options, in varying sizes for finishing your floor. The three best choices are Runway, Grand Prix, or Glacier. The best choice for the job depends on the type of floor, amount of traffic, and the tools used to maintain the floor. Applying 2 – 3 coats of product is recommended. 20 – 30 minutes of drying time is required between coats. Speak to our Apple Sales Team professionals for recommendations.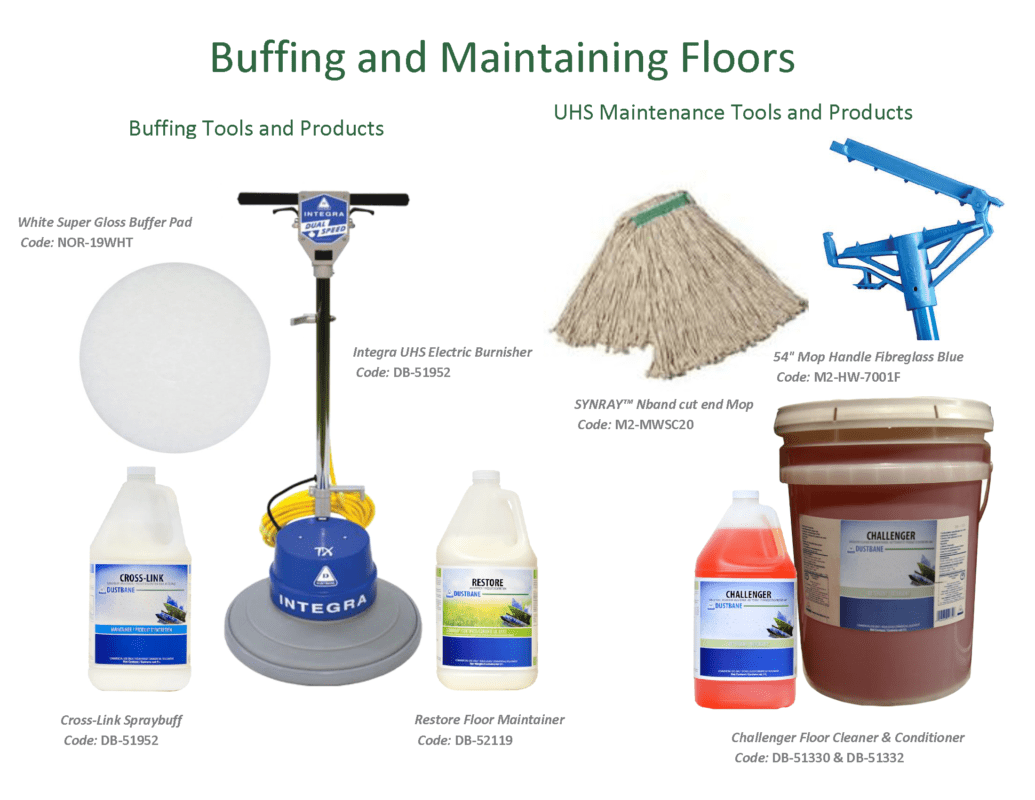 Checklist for Buffing and Maintaining Floors
Buffing the floor is made easy with the Integra Dual Speed Floor Machine. By moving in a simple back and forth motion, this machine will bring back the shine on dull surfaces. Use Cross-link Spray Buff solution to restore gloss to tired, worn floors while removing scuff marks and scratches. Restore is a triple action floor maintainer for ultra high speed (UHS) maintenance programs which cleans and restores while maintaining an exceptional appearance.
Challenger cleans and restores gloss in one operation and is specifically formulated to clean floors maintained with ultra high-speed finishes. This finish helps surfaces to stay cleaner longer, reducing the need to strip floors. Works great on finished wood floors. Simply apply with Synray™ Nband mop and 54″ Fibrerglass handle.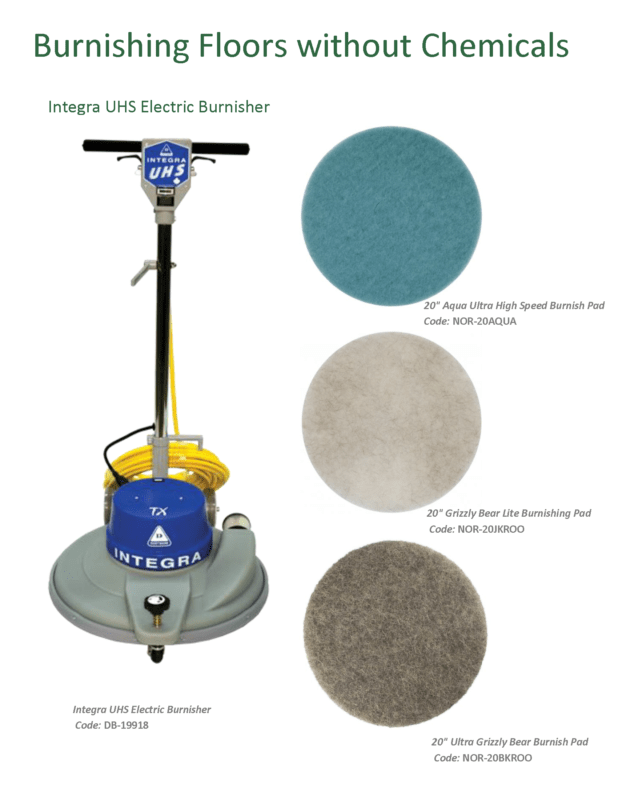 Checklist for Burnishing Floors
The Integra TX 2000 UHS Floor Machine  is used on ultra high speed to create a brilliant gloss surface. Used in combination with a floor finish or maintainer will result in a protective coating on the floor.
 
The Aqua Ultra High Speed Burnish pad is engineered to produce the "wet-look" shine on soft to medium hardness finishes. Engineered with fibers that are durable enough to clean and use again, yet resilient enough to conform to the floor surface for better coverage.
For a lighter blend of natural hair, the Grizzly Bear Lite produces an exceptional high luster to finishes, especially on soft and flexible surfaces. The natural and synthetic fibers combined with a soft resin, helps restore a high luster shine, quickly and easily.
The Ultra Grizzly Bear Burnish pad is a special blend of synthetic and natural hair fibers with the highest hair content for more aggressive Burnishing. The pad will quickly remove scratches and marks to leave floors glistening.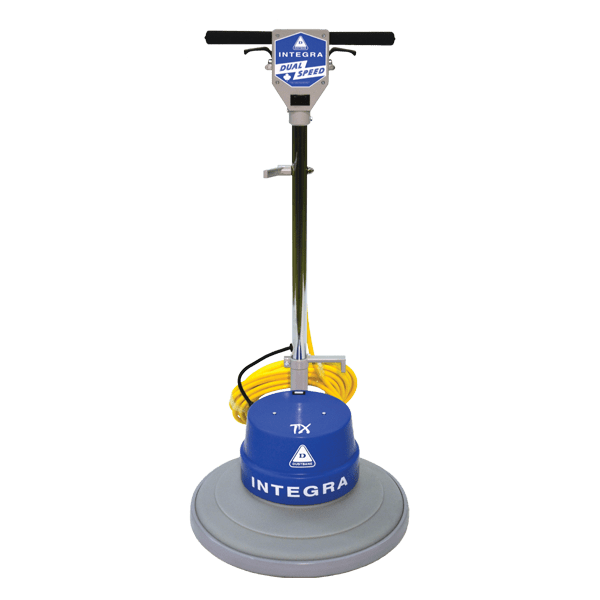 Rental Equipment
Don't own a burnisher? Apple Cleaning Supplies rents equipment. Check out our website to learn more. 

Apple U
Apple Cleaning Supplies offers training sessions on janitorial related subjects, including floor stripping. We have qualified instructors with decades of direct knowledge and hands-on experience. Contact us to learn more about our educational sessions. You will be glad you did! 
About Apple Cleaning Supplies
Apple Cleaning Supplies continues to provide quality professional cleaning products and commercial cleaning equipment since 1964. When you choose Apple Cleaning Supplies, you work with a team of experts who have over 100 years of collective experience in the cleaning industry. We can recommend custom solutions for your facility and offer advice on how you can optimize the performance of your operations.
Our priority is to provide excellent service with expert guidance, offering educational training sessions, and a full facility analysis. We have two physical locations: one in Calgary, Alberta and one in Kelowna, BC and we deliver professional cleaning supplies across Western Canada.