Commercial garbage cans and commercial vacuums from a cleaning supply company are a must when caring for and cleaning your commercial space. Are you using your residential cleaning products for your commercial space? Have you ever wondered if there is a better option? There is a difference between commercial garbage bins and vacuums versus cleaning supply products designed for your home.
What is the difference?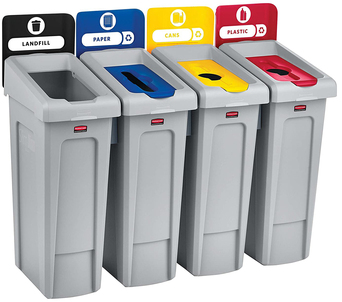 Commercial garbage cans can hold a lot more trash than a regular home bin and for good reason. With multiple people throwing away items into your waste bin regularly, you want to ensure it can hold everything from a few unwanted papers to heavier items like metal or wood objects. You need the space in your bin to last until the end of the day. These types of bins are built to last longer than a regular trash can would. Composed of sturdy material with superior design means your commercial garbage container can withstand the wear and tear of its use for years. Commercial garbage cans often come with easy transport features like wheels and strong handles so you can easily take the trash from the front of your commercial space to the back alley without spilling out the contents.
Being able to load up the trash without it spilling out everywhere will keep your space tidy and smelling fresh. Your customers will be more inclined to enter your space if it is clean and your staff will feel more comfortable knowing they are working in a tidy zone. No one wants to see or smell trash from the previous day, or worse yet, an entire week. Keep your garbage contained with commercial bins from your cleaning supply store.
Commercial vacuums in Calgary can provide you with more suction power. A large commercial space often requires a vacuum that can clean up high-traffic areas efficiently. Commercial vacuums are designed with stronger motors, heavier power cords, and a larger capacity. A regular residential vacuum cannot clean as well as a commercial one. Your space needs a vacuum you can rely on to remove dirt and debris, keeping the floors and air clean.
A fresh-smelling clean environment is inviting to your customers and employees alike. When the space is free from potentially harmful airborne dust and pollen, your staff will work better, be healthier, and your productivity will increase.
Head to your cleaning supply store for the products you need to keep your space looking brand new. After all, a clean space is a clean head.
About Apple Cleaning Supplies
Our priority is to provide excellent service with expert guidance, offering educational training sessions, and a full facility analysis. We have 
two physical locations
: one in Calgary, Alberta and one in Kelowna, BC and we deliver professional cleaning supplies across Western Canada.