It's no secret that sanitizing and disinfecting products have become increasingly popular and even mandatory across many industries. As a cost-effective alternative to purchasing bulk sanitizing and disinfecting wipes, our easytask® Refillable Cleaning System allows you to create your own wet wipes.
At Apple Cleaning Supplies, we are your local cleaning supply store in Calgary. And with over 10,000 different items in our inventory, we're prepared to meet your cleaning needs! Keep reading to learn about our customizable refilling cleaning solution.
The easytask® Refillable Cleaning System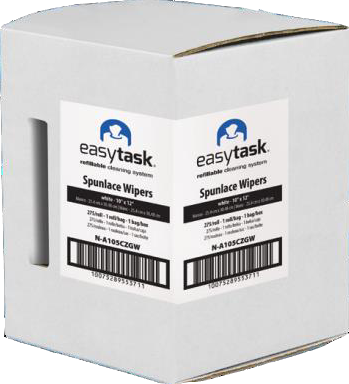 The easytask® Refillable Cleaning System allows you to create your own wet wipe. You can do this with the easytask® bucket and by adding one of our sanitizing solutions or your own cleaning/disinfecting solution. Simply mix:
2 cups of distilled water
1 cup Isopropyl alcohol (at least 70-91% concentration)
Essential oils (optional if you want to add some fragrance)
The solution should soak the refillable wipes.
Once you adopt these cleaning measures, you can enjoy the many benefits they provide, such as:
Cost reduction of cleaning/disinfecting solutions
Elimination of cross-contamination on surfaces — use a new wipe each time
Bucket or Grab Box® system that reduces vapours and fumes caused by cleaning/disinfecting solutions
Spunlace: Low lint, durable and absorbent
The Spunlace refills for the GrabBox® System are also available.
About Apple Cleaning Supplies
Apple Cleaning Supplies has provided quality professional cleaning products and commercial cleaning equipment since 1964.
When choosing Apple Cleaning Supplies, you're choosing a team of experts with over 100 years of collective experience in the cleaning industry. We can recommend custom solutions for your facility and offer advice on how you can optimize the performance of your operations.
Our priority is providing excellent service with expert guidance, educational training sessions, and a complete facility analysis. We have two physical locations: one in Calgary, Alberta and one in Kelowna, BC, and we deliver professional cleaning supplies across Western Canada.
Final Thoughts
When things get messy, Apple Cleaning Supplies is here. We have the cleaning solutions needed to make your facility spotless. And with decades of experience, our primary goal is to ensure you're satisfied. So contact us today for your cleaning needs.