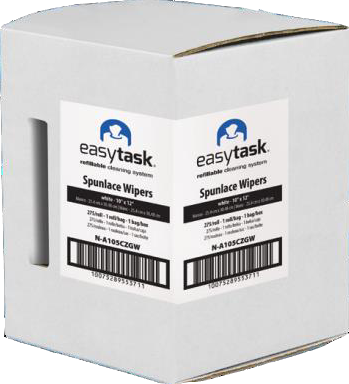 easytask® Refillable Cleaning System
Use this refillable cleaning system to create your own wet wipe with the easytask® bucket and by adding your own cleaning/disinfecting solution.
Also Available: Spunlace refills for a GrabBox® System
Reduces the cost of cleaning/disinfecting solutions
Eliminates cross comtamination on surfaces — use a new wipe each time
Bucket or Grab Box® system reduces vapors and fumes caused from cleaning/disinfecting solutions
Spunlace:  Low lint, durable and absorbent
Watch this Video to see how easy it is to make your own Wipes!
Call Apple Cleaning Supplies Today to Learn more about these and other innovative products! (403) 569-6969
About Apple Cleaning Supplies
Our priority is to provide excellent service with expert guidance, offering educational training sessions, and a full facility analysis. We have 
two physical locations
: one in Calgary, Alberta and one in Kelowna, BC and we deliver professional cleaning supplies across Western Canada.