Cleaning a large warehouse typically involves easy-to-use ride-on machines and scrubbers. While these are certainly great options that make significant cleaning tasks more efficient, there are a few other factors you'll need to consider. For instance:
Are there any potential materials that can spill and don't mix well with certain cleaning products?
How will you dispose of cleaning materials?
Are there any specific cleaning codes and policies that your industry needs to follow?
Do your employees have a thorough understanding of hazard assessments and safety data sheets?
As you begin to go through the list of potential situations, you may find that maintaining a warehouse is a daunting task. The good news is, our knowledgeable team at Apple Cleaning Supplies can provide educated recommendations that will enhance the health and safety of your employees and workspace.
To start, we list five of the most important industrial cleaning supplies you need for a large warehouse.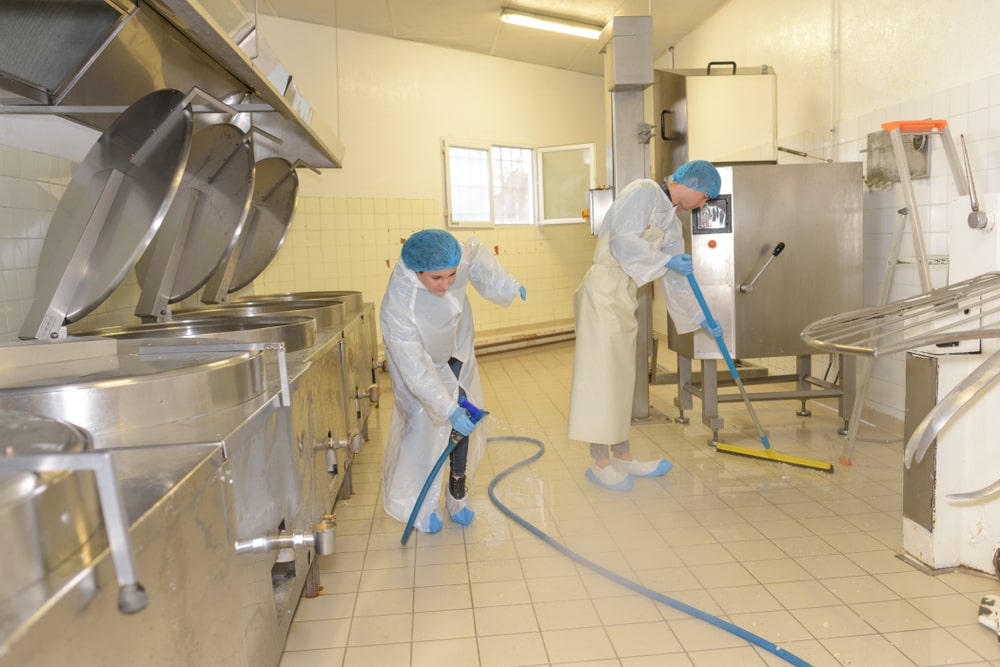 1. Floor Equipment
Floor equipment for industrial cleaning is essential. Depending on the size of your warehouse, you'll want to consider:
Automatic floor scrubbers
Commercial vacuums
Commercial sweepers
Burnishers and polishers
Industrial-grade floor equipment helps with cleaning productivity and efficiency. You certainly don't want to attempt using a simple broom and a small mop to clean large floor space. These heavy-duty machines also reduce worker fatigue and prevent work-place related injuries.
2. Industrial-strength cleaning products
Most warehouses need all-surface cleaning products, window cleaner, bathroom cleaning supplies, and sanitizer. While these are standard products, you'll need to take inventory of the potential hazards in the workplace before choosing industrial cleaning supplies.
For example, some chemicals don't mix well with bleach or some cleaning products should not be used on certain material. Be sure to go through risk assessments and safety data sheets of each piece of equipment and cleaning product.
3. Cleaning carts
As well-equipped as your workspace may be with cleaning tools and warehouse supplies, if they are constantly going missing or being misplaced, the downtime this creates impacts productivity.
A solution to this is to utilize cleaning carts for storage. Staff can find the items they need in a portable place that can easily be transported to different areas of the warehouse.
4. Sorbents and spill control
Liquids like water, juice, or coffee on smooth hard surfaces like a warehouse floor are typically easy to clean. Just grab some paper towels and spray away. But what happens when oil or even bodily fluids need to be cleaned? Attempting to mop up oil only makes the mess worse and oily rags will need to be disposed of properly as they become a flammable hazard.
Sorbents soak up liquids and contain them before they spread. All workspaces should have spill control solutions and the necessary product on hand in case of an emergency.
5. Personal protective equipment
Before cleaning begins, staff must be equipped with proper PPE. Depending on the type of cleaning and products used, workers will need items like safety gloves, goggles, and appropriate masks.
About Apple Cleaning Supplies
Apple Cleaning Supplies continues to provide quality professional cleaning products and commercial cleaning equipment since 1964. When you choose Apple Cleaning Supplies, you work with a team of experts who have over 100 years of collective experience in the cleaning industry. We can recommend custom solutions for your facility and offer advice on how you can optimize the performance of your operations.
Our priority is to provide excellent service with expert guidance, offering educational training sessions, and a full facility analysis. We have two physical locations: one in Calgary, Alberta and one in Kelowna, BC and we deliver professional cleaning supplies across Western Canada.