You might think window cleaning is easy. As long as you have proper cleaning supplies in Calgary, the job can get done correctly, right? Wrong! When getting your windows cleaned, there are several common mistakes a lot of cleaners make. Here are 4 key things to watch out for if you want clean and clear windows:
1. Wrong tools
A window washer should have the right tools for the job. Without the proper equipment, your cleaners can damage the glass portion of your windows. If abrasive things like steel wool are used to remove built-up dirt and grime, your windows will be scratched and permanently ruined. So, what are the proper tools required to clean your windows safely?
Microfibre cloth
Squeezer or mop
Scraper
Bucket
Squeegee
2. Improper use of tools
Your window washer may have purchased all the proper tools to use from a cleaning supply store but are you sure they know how to use them? Using tools incorrectly can also result in scraped and damaged window panes and frames. You don't want to have to spend extra money to replace or refinish the windows due to an inexperienced window washing company. Make sure you hire a professional window washer that is trained to use the right tools correctly.
What is the proper way to use a window scraper?
Make sure the blade of the scraper is flush with the window. Avoid moving the scraper up and down or side-to-side, keeping it moving in one direction.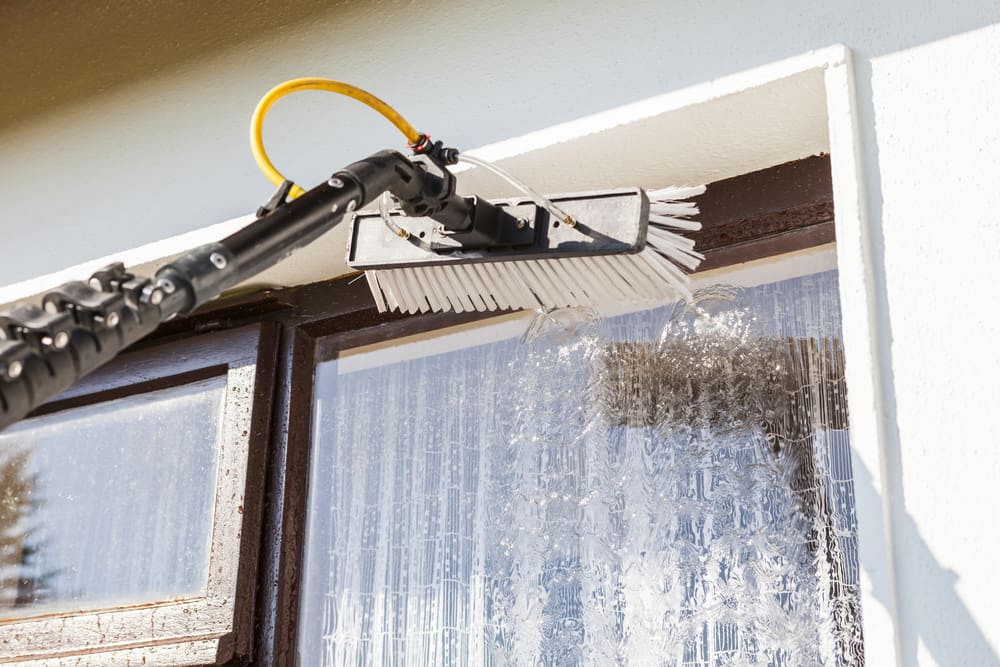 3. Weather dependent
Window cleaning mistakes often occur when your window cleaner does not pay attention to the weather. As insignificant as it might seem, the weather is a major factor in how your windows get cleaned. While your windows can get cleaned on hot days or cold ones, your window washer should note that soap dries quicker on warmer days. Your windows should be washed in smaller sections on hotter days to ensure there is no soap scum left on the glass.
It is also good to note that any sort of precipitation will undue the job of your freshly washed windows. Window washing should only be done on days where there is no chance of rain or snow.
4. Safety equipment
Without proper safety equipment like harnesses, scaffolding, and commercial ladders, a window cleaning can turn dangerous. Not only will your windows be left unwashed, but your window cleaner might need to head to the hospital, and no one wants this. Ensure the window cleaner you hire uses special safety equipment suited to the job, so neither of you has to worry.
There are many cleaning supplies in Calgary for maintaining your freshly washed windows. A cleaning supply store can provide quality cleaning products to your professional window washing company to ensure your windowpanes give you the best view!
About Apple Cleaning Supplies
Our priority is to provide excellent service with expert guidance, offering educational training sessions, and a full facility analysis. We have 
two physical locations
: one in Calgary, Alberta and one in Kelowna, BC and we deliver professional cleaning supplies across Western Canada.