Our team at Apple Cleaning Supplies wishes you and your loved ones a Happy Holidays and a healthy New Year! For many businesses, it's been another challenging year navigating restrictions, distancing, and extra cleaning protocols. If these trying times have taught us anything, it's that cleaning goes beyond appearances – it is crucial to the health of your employees and clients.
As a Calgary-run business supporting the local economy, we can't thank you enough for your support and we will continue to do our part to help you maintain a safe and clean facility. Apple Cleaning Supplies is committed to eco-friendly cleaning practices, offering products that are better for the environment and gentler on skin without compromising a thorough clean.
With the holidays fast approaching, that means company parties, gatherings, and celebrations! Here are some of our top cleaning tips to maintain a neat and tidy facility this season.
Pay extra attention to your floors
It's the time of year when people are tracking in snow, salt, gravel, and sand – especially with more foot traffic during a busy time. We recommend cleaning floors more often throughout the day, especially mopping up any wet areas that can be a safety concern. Consider investing in a floor machine to save time.
Leave cleaning supplies out in the open
Of course, we don't mean leaving buckets of chemicals and equipment out in the hallways and offices! We recommend keeping a spray bottle with an all-purpose cleaner and a microfibre cloth within reach where it makes sense, including the reception area, on top of a kitchen counter, in conference rooms, and on bathroom counters.
More mishaps happen during this busy time, such as spills and general messes. Having cleaning supplies visible encourages team members to maintain a clean environment and spot cleaning throughout the day assists the overnight cleaning staff.
Stock up on hand soap and sanitizer
Many businesses go through more hand soap and hand sanitizer during the holidays – and that's a good thing! It means people are making the effort to practice good hygiene and stay clean. As more people use your facilities, you'll want to make sure that you have enough hand soap and sanitizer to last. Soap and sanitizer are essentials and we recommend taking advantage of bulk prices to save on cleaning costs.
We hope you have a wonderful holiday with your family, friends, and coworkers. From the team at Apple Cleaning Supplies, we look forward to serving you in 2022 and beyond!
See below for our updated Holiday hours and give the gift of a clean and healthy space with an Apple Cleaning Supplies gift card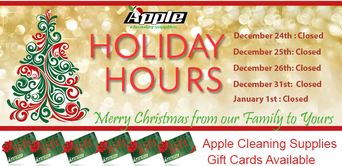 About Apple Cleaning Supplies
Our priority is to provide excellent service with expert guidance, offering educational training sessions, and a full facility analysis. We have 
two physical locations
: one in Calgary, Alberta and one in Kelowna, BC and we deliver professional cleaning supplies across Western Canada.