Did you know that vacuuming is the single most time-consuming process of commercial cleaning? It can also account for up to 25% of the total cleaning cost, as most buildings require daily vacuuming as part of their cleaning procedures. The time, money, and effort it takes to vacuum a commercial space increases even more without a proper machine. This highlights how critical it is to choose the right industrial vacuum cleaner designed specifically for handling commercial cleaning.
Commercial vacuums in Calgary increase productivity, reduce cleaning costs, and can boost the morale of your staff. To help you choose the right equipment, we list five different types of commercial vacuum cleaners below.
1) Upright commercial vacuum cleaners
As the name suggests, upright vacuums are vertical machines with wheels and a bag for collecting dirt. These machines are typically what you'll find for residential use on a smaller scale. For commercial cleaning, however, upright vacuums are more powerful and are available with a wider base for a more extensive reach. They are best for small to medium-sized commercial spaces with a mixture of carpeted and hard floors.
While it may be tempting to purchase an upright residential vacuum if you have a small commercial space, keep in mind that commercial vacuums are designed to last longer. A residential vacuum may be less expensive at first, but you'll likely need to replace it sooner than you would a commercial model.
2) Canister commercial vacuums
Canister vacuums have a base where the soil is collected with wheels at the bottom for easy maneuvering. The base is connected to a long hose and your desired attachment (such as a round dust brush, crevice tool, upholstery nozzle, extension wand, and more). Canister vacuums are useful for multiple cleaning tasks, such as hard and soft floors, fixtures, furniture, stairs, and hard-to-reach areas. Keep in mind that canister vacuums are not ideal for high-traffic businesses as they have long cords and a separate base that can be a tripping hazard.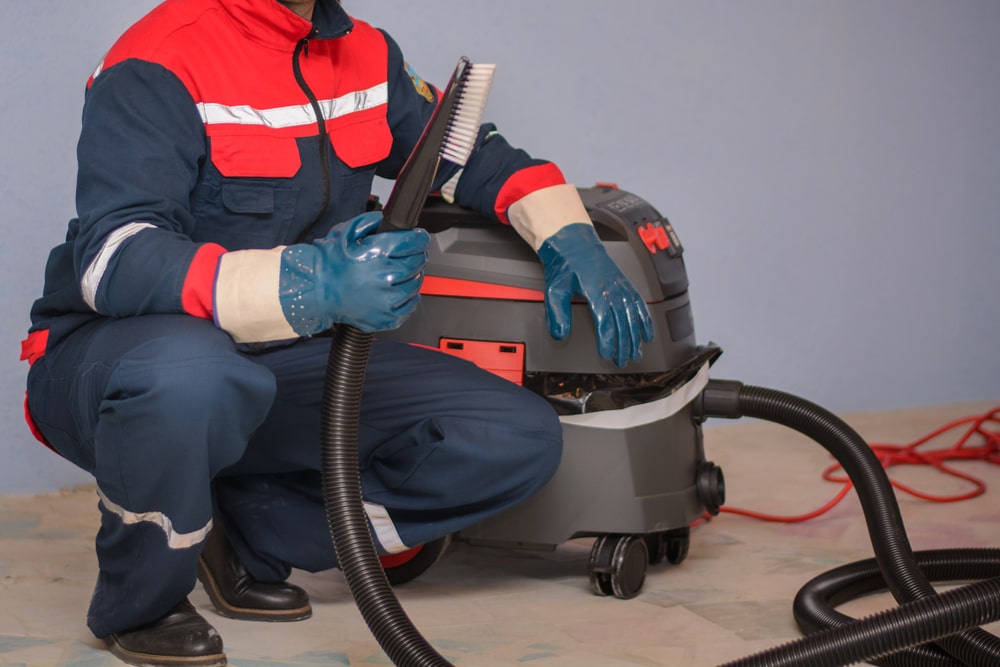 3) Backpack vacuum cleaners
Modern backpack vacuums in Calgary offer a more ergonomic design for user comfort. They allow for unrestricted movement and are ideal for congested areas or tight spaces. Backpack vacuums are battery-operated or cord-electric powered. Their lightweight construction reduces fatigue and is extremely convenient for stairs or landings.
4) Wet/dry vacuum cleaners
Wet/dry commercial vacuum cleaners are great for places that often see moisture, such as entryways, auto repair shops, restaurants, schools, and hospitals. When dealing with wet areas, only use a vacuum designed specifically for wet residue. If you attempt to use a dry vacuum cleaner to suck up liquid, the motor can break and you'll need to replace the machine. Wet/dry vacuum cleaners suck up the liquid which bypasses the motor to avoid damage. Many commercial spaces use wet/dry vacuum cleaners as they can transition between hard and soft surfaces with ease.
5) Handheld vacuums
While we don't recommend only purchasing a handheld vacuum for a full commercial space, these convenient devices are great for quick spot cleaning throughout the day. They're also handy for detailed cleaning, effectively removing dirt from tight corners and crevices.
6) Battery-operated vacuum sweepers
There is a reason why battery-operated sweepers are in high demand for commercial and industrial spaces. They are faster, more efficient, easy to use, and require no power cords for easy maneuverability. Some models, like the Dustbane Gladiator series, include an onboard charger that lets you charge the sweeper anywhere. Gladiator sweepers operate at minimum noise levels to allow for cleaning at any time without disruption.
One of the biggest advantages of battery-operated sweepers is that they can transition from vacuuming carpet to sweeping floors with ease. If you have large floor spaces or long hallways, vacuum sweepers help your cleaning staff increase their productivity and reduce the time and effort it takes to vacuum a large area.
About Apple Cleaning Supplies
Apple Cleaning Supplies continues to provide quality professional cleaning products and commercial cleaning equipment since 1964. When you choose Apple Cleaning Supplies, you work with a team of experts who have over 100 years of collective experience in the cleaning industry. We can recommend custom solutions for your facility and offer advice on how you can optimize the performance of your operations.
Our priority is to provide excellent service with expert guidance, offering educational training sessions, and a full facility analysis. We have two physical locations: one in Calgary, Alberta and one in Kelowna, BC and we deliver professional cleaning supplies across Western Canada.