Apple Cleaning Supplies has always been dedicated to providing quality products in Brand Names you have come to know and trust. In light of the current situation, however, some products have become more challenging to source and prices have increased based on supply and demand need. We have witnessed how the current situation is affecting the availability of Nitrile gloves and other Personal Protective Equipment specifically, during this uncertain time. We have been informed from a number of our suppliers, that due to the pandemic and global constraints, materials have become high in demand and therefore it has affected the overall pricing and availability of supplies that would normally be readily available. We are working diligently towards possible solutions to ensure we have product available for our valued customers. In order to keep our customers informed, we would like to share some of the challenges we are facing in securing specific products, and what is affecting the price of Nitrile Gloves specifically.
Current Situation
With studies proving gloves to be effective in protecting against COVID-19, over 80 million gloves are needed by COVID-19 health response teams each month worldwide. Research has the current global demand for Nitrile gloves at 300 billion pieces. The COVID-19 pandemic has caused an immediate 45%, or 135 billion pieces, increase in demand. Looking forward, the single use glove market is expected to grow at a 5-year CAGR of 25% or more. Current shortages are the result of the global pandemic combined with low PPE stockpiles.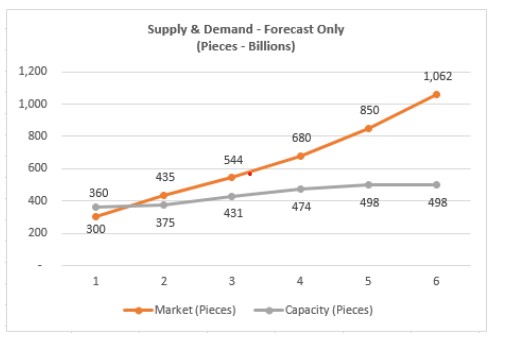 Glove Manufacturing Capacity 
Glove manufacturing capacity is impacted by two separate factors. The first is the availability of raw materials; the second is the availability of manufacturing facilities.
Insufficient availability of both of these is currently impacting supply.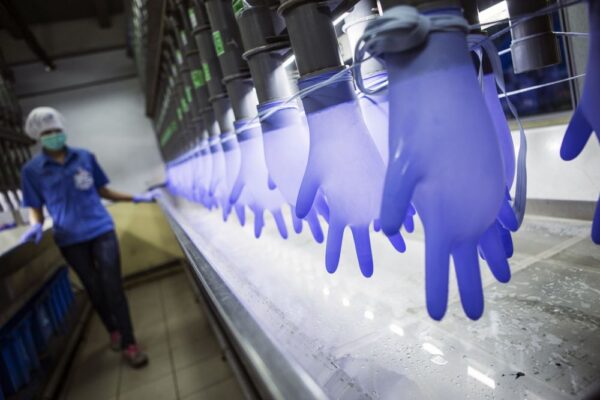 It takes 12-18 months to build a new reactor factory to produce NBR latex (the raw material). Raw material suppliers/converters are adding new capacity based on budgeted investments prior to COVID 19, and have stated that that they will not invest in new production capacity as a result of demand increases driven by the pandemic. Raw material suppliers have put single use glove manufacturers on allocation, and new Nitrile reactor capacities will not begin to come on-line until Q2 2021. Though this will result in an additional 10% increase in output, all of these actions will still leave a shortage of material to meet demand.
The largest glove producers in Southeast Asia are using idle capacity to increase output by 10- 15%, well short of the amount required to meet current and future demand. Limited manufacturing capacity will start to become available in Q1/Q2 2021. Beyond that, manufacturers are increasing capacity by an estimated 20%. This means that by Q2 2022, the industry can only add an additional 25% in new glove production capacity.

Nitrile gloves are available in varied lengths from forearm to wrists. Some widely used nitrile gloves` applications include laboratory testing and examination gloves, while improved strength of the gloves is leading to their varied uses in several end-use industries. The applications of the gloves range from handling harmful materials that include chemotherapy chemicals to the regular exam room checks. While Nitrile gloves are more expensive than PVC gloves, they offer more functionality and flexibility affecting hand mobility in prolonged wear.  Nitrile rubber is a synthetic rubber copolymer of butadiene and acrylonitrile which exhibits strong resistance to fuel, oil and chemicals.
Nitrile gloves can be produced with reduced wall thickness, which enables glove producers to optimize cost of raw materials. As a result of being free from chemical accelerators and proteins, use of the material facilitates in shortening the production process, which also lowers energy consumption. As compared to rubber gloves, manufacturing costs associated with Nitrile gloves can be 15%-25% lesser, as relatively lower raw material prices and light weight compensate for the requirement for higher proportion of raw materials. New production lines are being designed to optimize the quantity of output by limiting product offerings to 3.5 gram and lighter weight gloves.
Rising Costs
Rising costs are due to the supply and demand imbalance and shortage of Nitrile raw materials, but the supply & demand model becomes heavily influenced when factoring the Government of Canada's initiative in procuring PPE supplies for Health Care Workers.
Taken from the Government of Canada Website;
The Government of Canada is collaborating with provinces and territories on an ongoing basis to identify their needs and purchase required equipment, supplies and services to combat COVID-19.

Canada is taking an aggressive approach to buying, especially when it comes to personal protective equipment for front-line healthcare workers. This includes:

ordering in bulk on behalf of provinces and territories
supplementing those orders by purchasing everything immediately available that meets requirements
ramping up domestic manufacturing capacity, through the Plan to Mobilize Industry to fight COVID-19, being led by Innovation, Science and Economic Development Canada

This is over and above efforts provinces and territories are taking to secure their own supply.

The quantities ordered for personal protective equipment and medical supplies are intended to meet short-term needs and anticipate Canada's long-term needs as we continue to respond to COVID-19 while preparing for any eventuality over the coming months.

The government is also coordinating shipments of supplies from other countries. Canada has established on-the-ground support in China for transportation, receiving, storage services and customs clearances. This will be an ongoing process as orders are ready to be shipped to Canada.
Many manufacturers have raised prices higher than raw material cost increases to generate capital to pay for line extensions, factory upgrades, additional freight charges and new COVID-19 processing protocols.  All which affects the cost of production increasing the price of the product. Through July, Nitrile raw material suppliers have increased prices by 195% over the April 2020 levels. These additional input costs have contributed to a 215% increase in replacement costs since April of this year with a projected increase of an additional 50-100% through to December 2020 and the potential of continued increases through to the end of 2021 and beyond.

What is Apple Cleaning Supplies Doing to Support our Customers?
Given the current circumstances, our sourcing and procurement teams are working very hard to ensure that we can maintain some reasonable level of secure and trusted supply. It is important that we establish realistic expectations on the continuity and availability of Nitrile gloves and be prepared to accept we may still experience intermittent supply interruptions. It is our focus and priority to meet the needs of our customers and we will continue to be dedicated in securing product from reliable sources and explore new avenues to meet that need, or offer a suitable substitution. In addition, in order to secure our supply we will be required to pay a higher cost for replacement inventory and this will result in a significant price increase for Nitrile gloves. As the situation progresses, availability and costs associated with other PPE Supplies is also expected to be affected.  will also expect to be affected.
If you have any questions regarding cost increases, please reach out to us. We are here for you. Stay Safe!
About Apple Cleaning Supplies

Our priority is to provide excellent service with expert guidance, offering educational training sessions, and a full facility analysis. We have 
two physical locations
: one in Calgary, Alberta and one in Kelowna, BC and we deliver professional cleaning supplies across Western Canada.